Brought to you by
Norwich Pagan Sphere
---
Vasudeva Katora - Krishna's Siphon
EAMMM 2017.27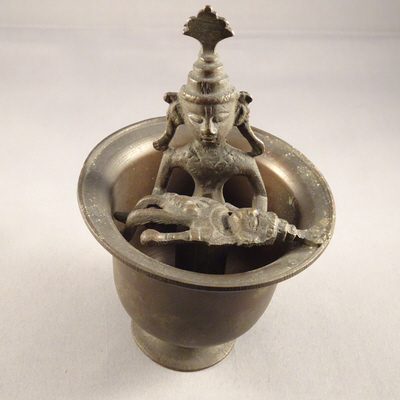 This brass cup contains a figure of a man carrying a child, but it is no ordinary cup and they are no ordinary people. The man is called Vasudeva and the child is his son, Krishna.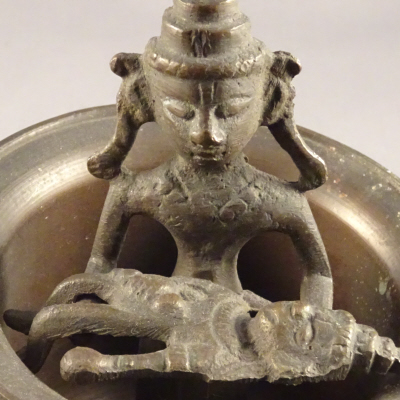 Krishna is an Avatar of Vishnu in Hinduism and a god of compassion and love. This cup is a traditional teaching toy made in Mathura, a town in the northern Indian state of Uttar Pradesh. It can be filled with water, but when the water level reaches Krishna's foot, it all runs out of the bottom through a clever siphon arrangement. It commemorates the myth of Krishna's birth and survival.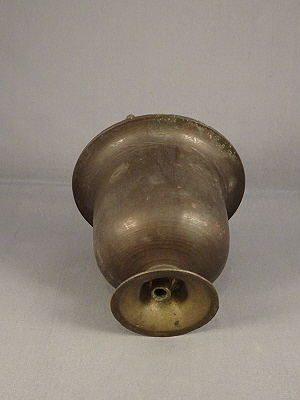 When his human father, Vasudeva, and mother, Devaki, get married, her brother, King Kamsa is told of a prophecy that a child of his sister would kill him. Every time Devaki gives birth, her brother has the baby killed. When Krishna is born, Vasudeva knows what to do. He secretes the baby and hurries to the river Jumna (or Yamuna), but finds it in flood. Undeterred, he walks into the river and, miraculously, the water reaches no higher than the baby's foot and they cross safely. Vasudeva leaves the child with a foster family near the town of Mathura and returns home with a changeling. When Kamsa comes to take the newborn baby, it shows itself to be the goddess Durga, who warns the King that his death is imminent. Krishna survives (as do later siblings) and is brought up by the foster family in Mathura.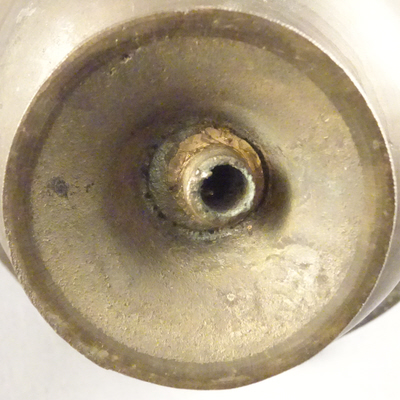 By simulating a miraculous occurrence with the apparently magical action of the siphon, the cup not only reminds children of Krishna's story, it also encourages their curiosity about how things work.
The story is also interesting because it parallels Western myths, notably the escape of the family of Jesus Christ from Herod and the legend of Christ being carried across a river by Saint Christopher (whose name is literally Christos phero in Greek, 'carrier of Christ').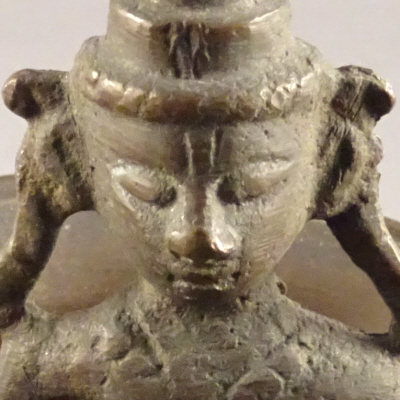 Material: brass
Height: 122 mm
Diameter: 80 mm
Date: possibly late 19th century CE
Place: Mathura, Uttar Pradesh, India; collected in Norwich.
Bibliography
W. Crooke (1900) The Legends of Krishna Folk-Lore: Transactions of the Folk-Lore Society XI(1), pp. 1-38 (p.15).
Frederic Salmon Growse (1882) Mathura: A District Profile Allahabad (1979/1993 reprint editions, Asian Educational Services, Delhi, p. 54).
Two of these cups are also on display at the Pitt Rivers Museum in Oxford: cases 123 and 126.
---
Return to the List of Collection Highlights
---
This site and its contents, unless otherwise stated, are copyright © Chris Wood and Val Thomas, 2021.