Brought to you by
Norwich Pagan Sphere
---
Tibetan Silver-plated Pendant Prayer Wheel
EAMMM 2004.34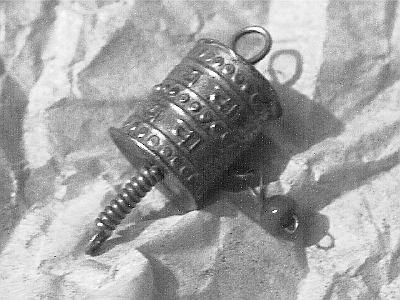 The use of prayer wheels in Tibetan Buddhism is well known. It is a way of sending the power of prayers out through the worlds. This miniature version could be worn around the neck, or elsewhere, and be turned at will whilst going about one's daily business.
This example is believed to have been brought back to England by a Christian missionary in the 1920s.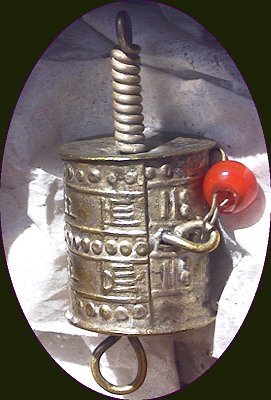 Material: silver-plated copper alloy; coral bead
Length: 27mm
Diameter: 15mm (over bead)
Date: early 20th century CE
Place: Tibet
---
Return to the List of Collection Highlights
---
This site and its contents, unless otherwise stated, are copyright © Chris Wood and Val Thomas, 2021.