Brought to you by
Norwich Pagan Sphere
---
Noise-abatement Spell
EAMMM 2015.3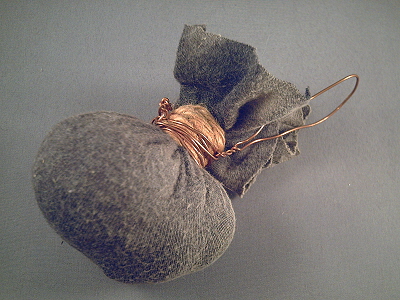 A binding spell is designed to prevent someone or something from doing something undesirable. It does not seek to limit anyone's freedom, as it is a particular result that is requested, not the method of achieving that result. Indeed, if the result is achieved by means of something positive happening to the person, then all to the good.
This spell was intended as a talisman against noise coming from a specific house. It was made by first taking a photograph of the house, wrapping that in cotton wool, then in the piece of cotton fabric, which was tied with the string and secured with the wire. The aim was to bind the house occupants from creating disturbance.
It was blessed with the Elements at a window overlooking the house and placed in the window. (This led to the fading of the material.)
It had limited effect, probably because it was displayed as an apotropaic device rather than being destroyed or buried to release its effect.
Material: grey cotton fabric; copper wire; string; paper; cotton wool
Length: 135 mm
Width: 80 mm
Date: 2014 CE
Place: Norwich
---
Return to the List of Collection Highlights
---
This site and its contents, unless otherwise stated, are copyright © Chris Wood and Val Thomas, 2017.