Brought to you by
Norwich Pagan Sphere
---
Masonic Apron and Sash
EAMMM 2004.20.1
EAMMM 2004.20.2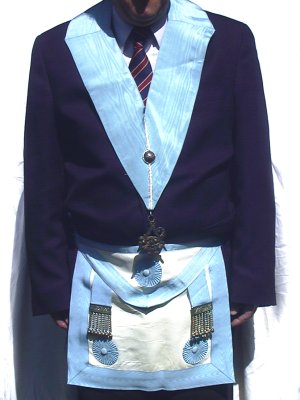 This masonic outfit once belonged to Norman H. Hack, who was a member of the Vaudeville Lodge (no. 5592) in London, a lodge drawing its membership from the theatrical world. The Lodge Steward's jewel was presented to Mr. Hack in 1936, the year of the lodge's consecration, presumably at its then usual meeting place of the Frascati Restaurant on Oxford Street. The design incorporates a cornucopia, symbol of fecundity, suitable to the Steward's role in serving food and drink to the assembled brothers.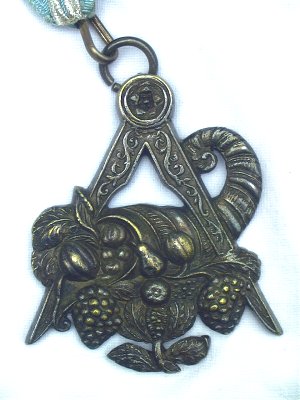 The apron bears three rosettes and a blue border, together with tassels, which marks it out as being that of a Third Degree (i.e. Master) Mason.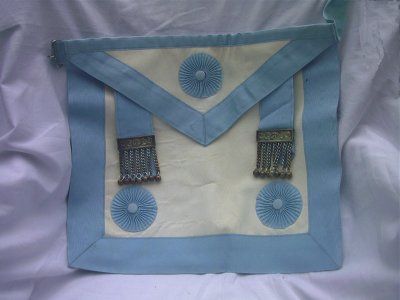 Although the extent to which freemasonry is related to magic is debated, some of the higher orders are very clearly in the area of ceremonial magic and take their inspiration from such Renaissance movements as the Rosicrucians. Masonic developmental mysteries are both inspired by ancient practice and in turn a foundation and inspiration to modern magical orders, such as the Hermetic Order of the Golden Dawn, as well as Wicca. The basic three degrees can be likened to the foundation of religious practice, with the higher and side degrees taking the seeker onwards into more mystical and magical realms.
Materials: leather, nylon and bronze
Dimensions: mm
Date: 1936
Place: London
Made by: Toye & Co. Ltd., London.
Bibliography
---
Return to the List of Collection Highlights
---
This site and its contents, unless otherwise stated, are copyright © Chris Wood and Val Thomas, 2021.